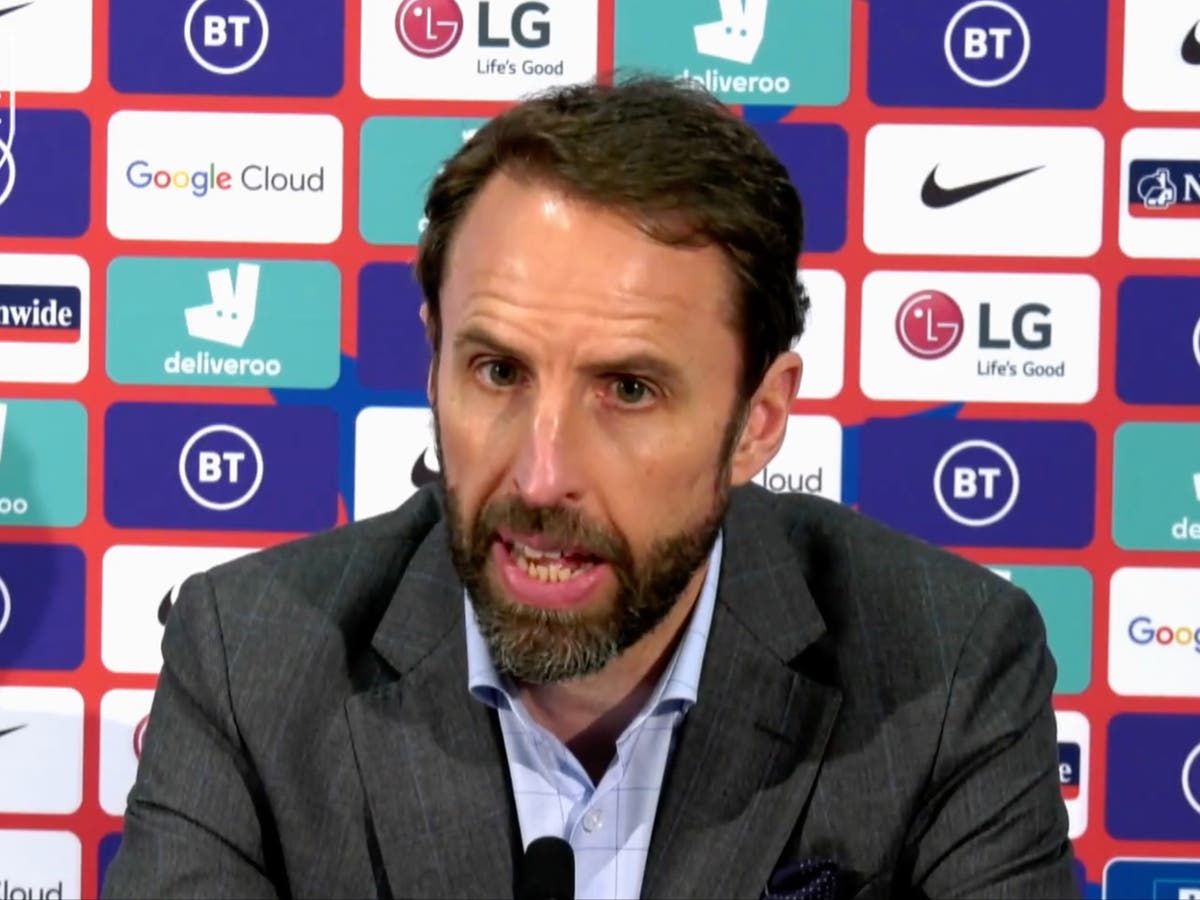 Countdown to Euro 2020: 18 days to go
Gareth Southgate has announced his 33-man provisional England squad for Euro 2020.
Defenders Ben White and Ben Godfrey and goalkeepers Sam Johnstone and Aaron Ramsdale have received their first Three Lions call-ups ahead of next month's tournament.
Liverpool's Trent Alexander-Arnold is among four right-backs in the provisional squad as part of an expanded initial group which will then be trimmed down to 26 before the Uefa cut-off of 1 June.
Injury doubts Harry Maguire, Jordan Henderson and Kalvin Phillips are all included but there is no place for Burnley goalkeeper Nick Pope who misses out after surgery on his knee.
Manchester United star Mason Greenwood has been recalled for the first time since being sent home after his debut in Iceland with fellow teenager Jude Bellingham of Borussia Dortmund also getting the call.
There is no place for 2018 World Cup veteran Eric Dier while Leicester City's James Maddison and Southampton's Danny Ings also miss out despite featuring in recent squads.
Leeds United striker Patrick Bamford also misses out despite a strong season in the Premier League.
Follow all the latest reaction and analysis with Southgate set to speak to the media to field questions on his selection.
READ MORE:
Kane transfer 'very unlikely' during Euro 2020, says Southgate
Kane admitted last week that he is at a "crossroads" in his career and that he does not want to retire with any regrets over a lack of trophies, having not won any silverware at club level previously.
Manchester City, Manchester United and Chelsea have all been linked with the 27-year-old, who would prefer to remain in the Premier League even though Tottenham are reluctant to sell to an immediate rival.
Kane hopes to lead England to their first international tournament win in 55 years this summer and Southgate does not expect that his captain will be distracted by off-field speculation.
Jack Rathborn25 May 2021 15:28
Will any of three new faces make the final cut?
Jack Rathborn25 May 2021 15:27
Southgate on adding Jones to England coaching staff
Jack Rathborn25 May 2021 15:09
Southgate: 'It's heartbreaking for Pope'
Jack Rathborn25 May 2021 15:08
EURO 2020: UPDATED SQUADS LIST
Here's every single squad, provisional squad and still-tbd-squad so far. England the latest update!
Karl Matchett25 May 2021 14:51
RAMSDALE ON HIS CALL-UP
"No matter what happens in the coming weeks, I'm so honoured to be called up to the provisional squad. I'm lost for words."
Karl Matchett25 May 2021 14:45
END OF SOUTHGATE'S PRESSER
Ok that was a lot of ground covered…here are some of the key takeaways from that lot:
Jordan Henderson on track for friendlies
Ben White in as "investment" for the future ahead of team-mate Lewis Dunk
Champions and Europa League finalists to get time off before joining squad
England not clear on severity of Maguire's injury or Phillips'
Graeme Jones into the coaching staff for Euro 2020
Karl Matchett25 May 2021 14:42
ON JORDAN HENDERSON
"We actually think the level of work Jordan has been able to achieve is very high, what we haven't been able to see is him on the pitch.
"He's on track to be involved in those games – he just has a high training load and no games.
"He might be ahead of others in some respects, who haven't trained much but have returned to play (like Grealish)."
Karl Matchett25 May 2021 14:33
ON INGS AND JWP
"We probably have looked at the squad in March, there are some who came back in but we were very pleased then – the forwards we selected were with us there.
"Danny is unfortunate not not be there, Bamford too, but we didn't see reason to change from the players who won us the games in March.
"We've worked with James (Ward-Prowse) since my first game with the U21s – it's amazing to see his life progress.
"To step from a young player with Mauricio Pochettino at Southampton, now he's captain under Ralph Hasenhuttl – he's a fantastic professional, you know he'll do everything he can to be in the best condition possible."
Karl Matchett25 May 2021 14:31
ON TAKING 26
"The 26, I'm still not a fan. As Luis Enrique said, you want everybody to feel they are there or there abouts.
"We could end up with people not even on the bench – not a great team dynamic.
"But [there's] the risk of not taking 26 with injury doubts and Covid and everything else.
"Everybody will approach it differently and it's fascinating to see that."
Karl Matchett25 May 2021 14:29